Nguni Zambezi Voyager would like to welcome you aboard. We consider ourselves more than a HOUSEBOAT and not just another LODGE in AFRICA. Nguni is a luxuriously appointed, fully serviced and activity driven FLOATING LODGE, that operates on the Zambezi and Chobe rivers.
We offer you our river voyager, Nguni, which is custom made, for your African safari. Our area of operation is within a water wilderness and we offer a boat and guide per room, so you can have a choice of either;
Taking a safari on the Chobe River, Concentrating on the photographic opportunities of an environment considered the Jewel of Namibia, having a fishing trip with a " happy ending ", or simply travelling through a piece of Africa in distinctive comfort and style.
Nguni is an owner run operation and would like to bring Africa's' premier, elephant viewing, tiger fishing and Sunset destination just a little bit closer and from our viewing deck a lot, lot closer.
Rooms:
Nguni accommodates 10 passengers in either twin or double bedded accommodation. The well appointed berths are tastefully decorated with soft stone textures and hand made linen.The entertaining decks combine a comfortable compliment of private lounges overlooking the idyllic waterways.
The open air decks offer a choice of cooling off in the jacuzzi or soaking up the African sun on the sun loungers on the top deck. Nguni is an exclusive experience affording you privacy amongst some of the most scenic beauty of the African water and savannah.
Nguni Voyager Activities:
All activities will be conducted from tender boats. Each cabin will have its own tender boat and guide where possible, however staying aboard Nguni is an activity in itself. From the elevated position of the viewing deck you have a birds eye view of the surrounding floodplains and waterways.
Game Viewing:
Game viewing will take place on the Chobe River. Viewing game from the water is a memorable experience, the game does not feel threatened from a water born source therefore the photographic opportunities are exceptional.
Birding:
The rivers have an enormous fish resource and therefore are home to magnificient water birds. Some of the iconic species of the area such as the African Fish Eagle, Mallachite Kingfisher, African Jacana and African Skimmer can be viewed easily from Nguni.
Local Culture:
Visitors are able to experience their lifestyle by simply observing as they tend to their daily duties or be more participatory as guests in one of their villages. Here we have the opportunity to understand how they live their way of life.
Walks:
The floodplain and wetland areas of the Zambezi and Chobe have a diverse ecological makeup. The opportunity to take guided walks is available over varying distances and within different habitats. The walking is comfortable as the terrain is reasonably flat and is not exclusively for the energetic.
Nguni Voyager Map: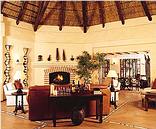 Chobe Chilwero, overlooking the Chobe River floodplains, is a small, intimate camp with eight twin-bedded, thatched bungalows with en suite facilities.
From:
R10550.00
per person sharing
Situated 70 kilometres upriver from the Victoria Falls, where white sand beaches and palm trees add to the romance, Ntwala Island Lodge is a wonderfully secluded Chobe and Zambezi destination.